DrupalCommerce.org Redesign in Progress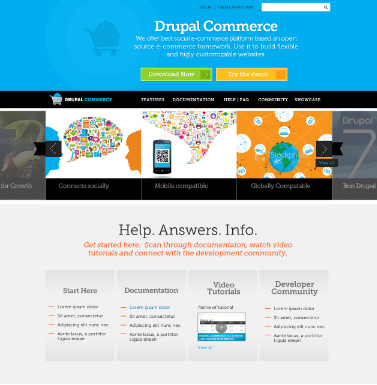 This website has largely remained unchanged since its creation at the end of 2009. Despite Drupal 7 being released in January 2011, we still haven't updated to it to take advantage of its latest and greatest features to foster a better community here around Drupal Commerce. While the site saw active maintenance and incremental improvement under rfay for many months, we're finally going to bring a fresh coat of paint and revamped feature set to help build a better self-help and user support community on DrupalCommerce.org.
In late January and early February we commissioned a new design for the site, choosing to go with a bold, fresh design over a "tried and true" corporate look. It emphasizes in many ways the vibrant, friendly community we're seen growing and brings immediate focus to items of interest to new visitors.
I've personally never been satisfied with basic forums as means to effectively answer questions and catalog those answers for future searchers. Many posts are duplicates, and we've never really had the forums here setup to accommodate different types of requests in the first place. We'll keep a general discussion board moving forward, but we'll introduce a "Stack Exchange" lite here for people to ask questions and find answers. I expect the feature set to expand with time, so we'll launch with a fresh system of questions, answers, and voting and grow it as we go.
Commerce Guys has also recently hired Josh Miller (joshmiller) to flesh out the documentation here on DrupalCommerce.org. It was a bit naive to expect new users to be able to grasp the wide variety of concepts and interplay between modules to pitch in and help document Drupal Commerce. Thus, Josh's immediate task was to evaluate where the site builder documentation currently stood and get busy revamping the entire user guide. This will of course be featured on the new DrupalCommerce.org and hopefully open the doors to many new users to get started on their next Drupal Commerce project.
As of right now we're implementing a few final parts of the site and working the kinks out of the data migration. Expect the new design to come online in the near future, and please bear with us as we all adjust to the shiny new toys.