Kickstart Tip #1: Social Logins Made Simple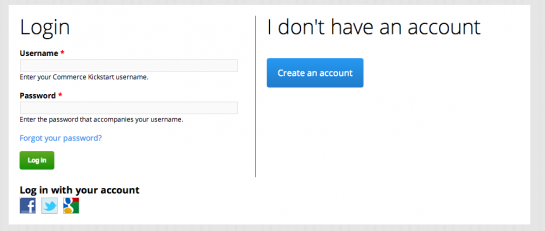 For all of the 2,400+ Commerce Kickstart 2 users out there, we have a really well kept secret: You have OAuth capabilities built right into your site! This means that in a few minutes, you can offer your customers the ability to login to your store using Facebook or Twitter or any other OAuth2 capable website service. If you don't have a Commerce Kickstart 2 website, have you seen it recently?
As a merchant, can you imagine all of the benefits with allowing your customers register with Facebook or Twitter?
Customer Information - This allows you to capture the email addresses before they ever get to checkout and other additional personal information that your customers don't mind sharing, but definitely don't want to have to fill out another form for it.
Sharing is Good - By embracing social media, you're tapping into a wealth of shareable products. Imagine making it super easy for your customers to share that neat thing that only their friends would understand!
Request more than the default access - With just a little bit of configuration you can map their birthday to a user registration field that gets saved to your system. The potential of useful information is only limited by your imagination!
The setup is pretty simple. We are taking the OAuth Connector module, a few pre-defined services for Twitter, Facebook, or Google, and connecting them to a simple and free OAuth API. Most of these API services require that you register an "App" to gain access to the API. This is how they can limit your API calls and help you keep track of traffic being generated using these services. The process is very similar to setting up a Google Maps API call.
Before we jump into the screencast showing you how to this all up, let's talk for a minute about why you would want to do this. Kickstart 2 comes with a registration-wall built into the demo store. That means that if you want to checkout, we ask kindly that you register on the site so we can help you track your order and keep in contact with you about your purchases. There's all kinds of awesome built into this, including an addressbook feature that lets you set up saved billing and shipping addresses, etc. But, who wants to register? We understand. That's why we've built in the capability to login with social login services. Using this simple setup process you can offer a "Facebook Login" or "Twitter Login" very easily.
So, let's go ahead and jump into a screencast on how to set this up:
Step 1: Go to admin/structure/oauthconnector/list and edit the provider of your choice and put in the App Key and Secret Key.
Step 2: Find the App Key and Secret Key
URLs to apply for App Keys (as of December 2012):
Step 3: Check permissions for your anonymous users!
This entire process is also documented in our Kickstart 2 Feature documentation for Social Logins.